With vaping taking over the smoking industry, convenience and versatility are the top factors that keep people interested in vaping. Luckee's disposable pod devices offer a seamless and hassle-free experience, ensuring you enjoy your vaping moments without any major hassles.
This guide will walk you through the top-notch disposable pod devices Luckee has to offer, each boasting unique features and flavors to suit your preferences.
Smart 8000 Disposable Pod Device
The Smart 8000 disposable pod device takes vaping to a new level with its innovative mesh coil. This technology ensures optimal heating, delivering the purest and most delightful flavors from your chosen e-liquid. Some flavors include pineapple apple pear, watermelon ice, grape jelly, and many more.
The digital battery and liquid indicator lets you know the battery status and e-liquid level, so you are always prepared for a smooth and uninterrupted vaping session. With its rechargeable design, you can enjoy up to an impressive 8000 puffs, making it a reliable disposable pod device.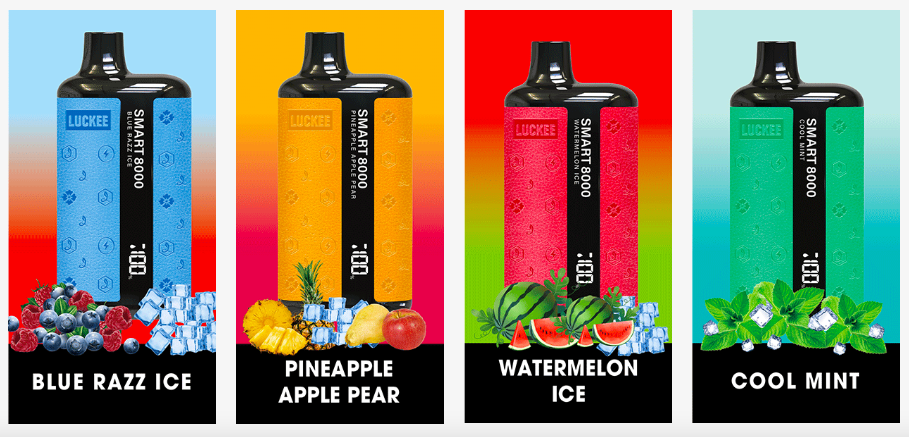 Spin-Box Disposable Pod Device
Luckee's Spin-Box disposable pod device brings personalization to the forefront with its adjustable airflow with a mesh coil which ensures the perfect draw every time with a capacity of over 600 puffs.
The Spin-Box's minimalist white design with candy colors is sure to look unique and one of a kind amongst other disposable pod devices. With a palette of flavors, from blue raspberry ice to kiwi passionfruit guava and cola ice, the Spin-Box offers many unique flavors that will keep you coming back for more.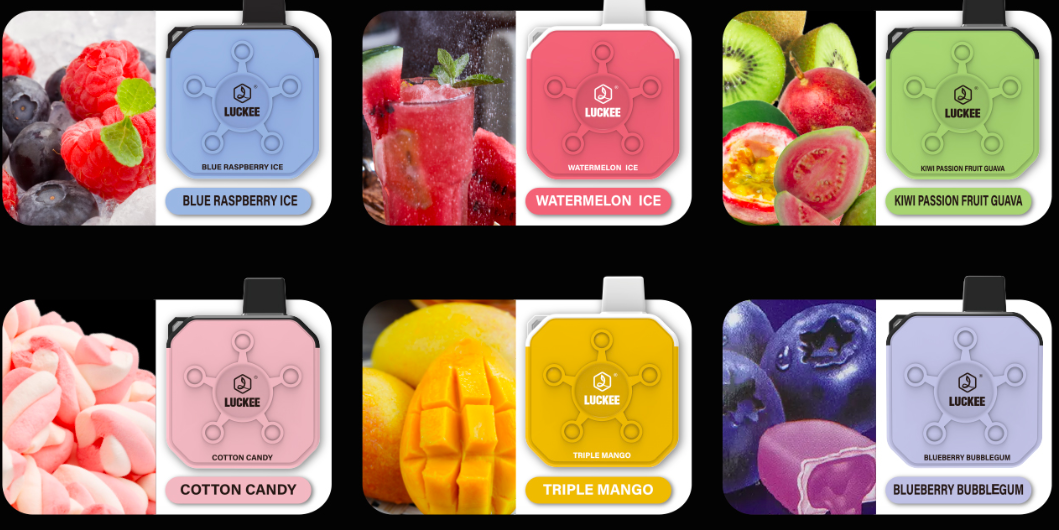 5K Box Disposable Pod Device
With its 600mAh rechargeable battery and built-in USB-C port, the 5K Box disposable pod device offers up to 5000 puffs without worrying about battery life.
The 5K Box's compact and ergonomic design fits comfortably in your hand, making it the ideal travel companion. Its size is perfectly balanced for effortless use and portability. The 5K Box ensures your taste buds are in for a treat with flavors like strawberry yogurt, peach berry, strawberry watermelon, and tropical punch.

5K Mini Disposable Pod Device
Despite its smaller size, the 5K Mini disposable pod device boasts the same impressive 5000 puffs as its larger counterparts. It's a pocket-sized marvel that won't disappoint. Its gradient romantic color contrast adds a touch of elegance and beauty to your vaping experience.
The Type-C Port ensures convenient charging, and the warning light keeps you informed about battery status. No more worrying about a drained battery while you're out and about.

Ace Disposable Pod Device
Luckee's Ace disposable pod device employs a mesh coil to ensure every puff is smooth and flavorful. With 5000 puffs, this device ensures an enduring and satisfying vaping experience.
Enjoy a customized vaping experience with  Ace's optional round and flat nozzles. Translucent and stylish, these nozzles cater to your unique preferences.
The Ace offers a refreshing array of flavors like cool ice, aloe grape, snow cone ice, sour-licious, and many more. Moreover, the Ace has a slim pen shape which is lightweight and suitable for pockets.

Mesh 600 Disposable Pod Device
Compact yet powerful, the Mesh 600 disposable pod device offers a dual design of round and flat nozzles that cater to various mouth shapes, making the Mesh 600 suitable for everyone. With a similar slim design to the Ace, experience comfort and satisfaction in every draw.
Gummy bear, spearmint, vanilla custard, and mixed berries are just a taste of the flavors Luckee has for you which ensures every puff is a delightful adventure.

600 Puffs Disposable Pod Device
Slim, sleek, and easily portable, the 600 Puffs disposable pod device is perfect for travel and daily use. Slip it into your pocket and enjoy the sleekness and satisfying vaping moments wherever you go. Cotton candy, red apple ice, pink lemonade, and mango milk ice – these are just some of the flavors that fulfill your taste buds with each inhale.

Conclusion
From sleek and powerful to compact and flavorful, these disposable pod devices by Luckee offer a vaping experience like never before. Explore the flavors, embrace the style, and elevate your satisfaction with a disposable pod device that perfectly suits your preferences.
For more information, visit Luckee Vape's website by clicking here!